The Heckler and Koch USP, short for
U
niversal
S
elf-loading
P
istol("
Universale Selbstladepistole" in German, H&K's country of origin)
, is used in a surprising amount of games nowadays. Metal Gear Solid had
Snake using the SOCOM
, which is a
USP mk23 fitted with a suppressor
and
LAM unit
, Resident Evil 4 had Leon using a
USP Tactical,
Call of Duty: Modern Warfare 1 and 2 featured the
USP .45
, Tom Clancey's Rainbow Six Vegas 2 has the
USP .40
, and plenty of other game titles include this popular handgun.
That being said, it should come as no surprise that I'd choose to build such a staple firearm. Though there are
a number of different USPs
, I'm opting to build the good ol' USP .45 as you can see here:
I started this build off by printing out a 1:1 scale image of the USP, cutting it out, tracing it onto cardboard, and cutting that out.
From here, I traced several more and did something I've yet to do with a cardboard weapon; place a dowel in it: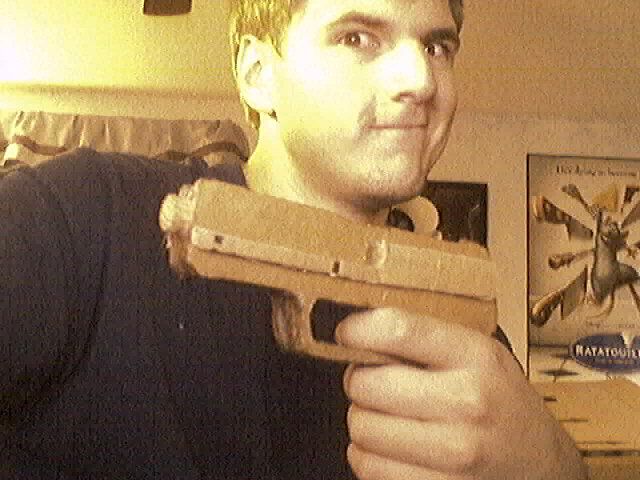 Yes, I'm aware the barrel doesn't extend past the slide. This technically makes it
a USP Tactical
, but that can still use .45 ammo, so it's all good. I might make a suppressor for it down the road, so I figured I'd keep the option open. After realizing all this, I decided to switch the final model over to the Tactical instead of the standard .45.
I need to add a few more details before painting, like adding the safety, the slide release, magazine release, etc, as well as drilling a hole for the muzzle.
I had a surprising amount of smoothing issues when I painted it, so I worked and re-worked it until I was happy with it. Then I hit it with a coat of black.
All that remains are the little details, which I love doing.
And there you have it. A USP Tactical(albeit with the removed "USP" on the bottom of the grip, so it wouldn't clash with the Umbrella logo, as per the buyer's request) with the detailing.
Evidently my mom has decided these are dangerous because I could be shot. It's not like I'm running around pointing these at people like a moron. I make these for the intention of them being used at conventions for photography and the like only, which is one reason I don't bother including triggers(the other being that it's less work > .>). Now I need to make a second one just like this.
Yay.